1. Health
2. Personality
3. Beauty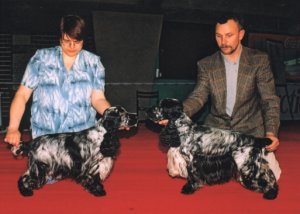 The most important issue in my eyes is that the puppies from my kennel are healthy and of a nice, uncomplicated personality, as those things help the future owner feel fully satisfied with the dog. The exterior, the outer beauty is only the final touch on the future owner dream about the perfect pedigree dog.
Before using a bitch for breeding I do my very best to check her health, personality and beauty. That is why before mating my females are checked for any genetically inherited diseases occurring in the English Cocker Spaniel breed. The bitches used for breeding are certified as free from inheritable diseases ( hip dysplasia, heart-, eyes-, kidney problems).
My dogs are also trained, do field trials and go hunting to check their character and abilities as hunting dogs. They compete in national and international dog shows on a regular basis too. The value of those dogs lets them win high places in dog shows and hunting trials and is clearly visible in the class of the puppies that already win shows as well. The stud dogs for mating are chosen carefully, so that their anatomy and character best matches those of the females, and helps breed Izomer puppies that can be the pride and joy for the owners and for myself.



Each new owner receives:



buyer's contract
the pedigree documents issued by the Polish Kennel Club (Związek Kynologiczny w Polsce)
for the international buyers - a passport and export pedigree documents, also, when it is required we microchip the puppy before it goes abroad (all the puppies are tattooed)
veterinary documents with all the vaccinations and deworming treatments in it
photocopies of both parents' pedigrees, champion certificates, medical test results and working trials
A few days supply of the food that the puppy used to eat here
A peace of cloth with the mum's smell, to make it a bit easier for the puppy
The favorite toy

We also offer:
Help and advice about proper grooming techniques
Help on training and showing the dog
Advice and help in case of any problems