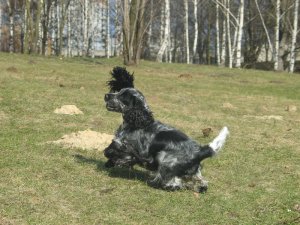 Before you buy a Cocker Spaniel consider if you will hale ime, panience and will to met what this race requires.
Cocker spaniel is a small, active hunting dog, very intelligent, and friendly towards people. Spaniels are extremely joyful dogs, always wagging their tails not only when you take them for the walk, but also when you come back from it, when you talk to them and when you are silent. Cocker Spaniels are by nature very sociable dogs and they require constant contact with your family so they will always be close to you.
Of course you may leave the dog alone in the apartment even for several hours but before thet you must give him enough time to play. Left alone, bored Cocker spaniel will try and find something to do and there is a possibility that he may damage your apartment.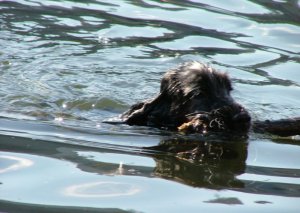 Cocker Spaniels are hunting dogs, born to work in the field. They with passion they run around on meadows and forests, tracking the game, they love swimming and fetching. They are also very intelligent, they hate to be bored and they need entertainment to develop properly and remain in good health. It could be obedience or agility training, fetching game or at least a longer walk on which the your Spaniel may run freely and play with other dogs. Spaniels are usually quick learning and willing to play and cooperate with their owner. A well trained Cocker is a lovely, obedient and joyful member of the family and brings a lot of happiness into our life and he never causes any problems with the neighbors.

Another very important aspect of breeding Cocker Spaniels is taking care of their coat. Their long, silky hair is undoubtedly a great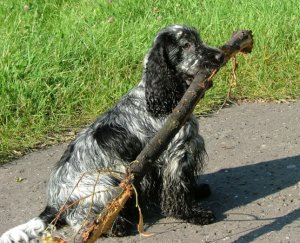 asset of this race, providing it is taken care of properly. However, maintaining the proper condition of their coat requires a lot of time and financial effort. In order to keep your Cocker good looking you must remember to comb its coat systematically every day. It is necessary especially after a log walk in the park because Spaniel's coat tends to be a magnet for twigs and dead leafs which get entangled into it. On rainy days almost every walk ends with a bath because long hair easily get wet and dirty. After rinsing it is necessary to dry the hair with a towel and hair drier and then comb it.
In order to make our Cocker look good it is necessary to cut its hair at least every two or three months because if the hair gets too long it my cause problems with every day combing. Hair-cut is obligatory because it ensures cleanliness and health.
Beautiful, low set ears with a long coat on them is what gives Cocker spaniels their characteristic sweet look, but you must remember to systematically cut the hair growing around the ear hole. Otherwise it may cause an inflammation, which is later hard and costly to cure. Similarly you have to regularly cut the hair on the legs and paws. Long hair on the paws creates a characteristic "slipper" effect, gets tangled easily and takes a lot time to dry out, which may lead to scalding and in worst cases to skin inflammation. Another consequence is that the dog brings into the house large amounts of sand and mud, which is not healthy for your carpets.
Hair-cut is best to e performed by a professional, because a "home made " hair-cut may leave us with a dog that not necessarily may keep up with the race standard. To help taking care of Spaniel's coat there are many cosmetics available on the market, although most of them are expensive.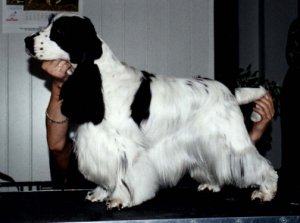 If in spite of all those possible difficulties you are certain that Cocker Spaniel is a dog for you remember also that buying a puppy is a decision you will have to live with for years. During that time the dog will be with you all the time, day and night, for good and for bad. That is why it is important to buy a puppy of a good breeding.
It is imperative to talk with the breeders, see the condition of the dogs and puppies, how do they behave (are they active, scared or maybe aggressive. An honest breeder will answer all your question willingly and he will provide all necessary documents concerning his/her dogs and the particular litter.