Cocker Spaniel is the smallest hunting dog used for fetching the game from the field and water. His physical predispositions (short, strong body, broad and deep chest, muscular neck strong legs with good angulation) are ideal for this task.
Cockers are dogs with great passion for hunting. They perform extremely well in the field, water and on the track.
In the field their pace is not too fast, they keep close to the hunter, never going away further than a shot distance. After spotting the game they mark that fact with quick wagging of the tail and immediately set it up. Thanks to their small size they are able to go through even the most dense of thickets. This ability allows them to almost completely cover the field and they do not leave any game behind. In the field they work well both with the high and low winds, so they are able to find shot game quickly. They are very methodical in the search for shot and bleeding game. Excellent in keeping the track, they are also great at fetching the game.

All Cockers Spaniels are great swimmers, they love the water, that is why they are successfully used to hunt wading and water birds. They fetch the game from water ith great passion and they do it expertly. The only problem that may occur are dense thickets on the banks, which may be impossible for such a small dog to go through, especially when fetching a bird.
Spaniels may also be used as tracking dogs when tracking a bleeding game. We have to remember though, that Cocker as a typical fetcher will not bark on the game, rather it will try to fetch it no matter the size of the game.Spaniels are great at tracking, but they do it quietly, they are not good at surrounding the wounded game.
The most serious problem when using Spaniels as hunting dogs is their thick, long coat, especially long hair on the ears, paws and tummy. We have to consider cutting it down systematically as long hair will make it difficult for the dog to do its job hunting. Especially during the winter season, snowballs that form on the dogs coat may cause it significant difficulties.
Despite its small size and problems with the coat Cocker Spaniels are great hunting dogs, that show great passion, have wonderful sense of smell, patient and always willing to cooperate with the hunter.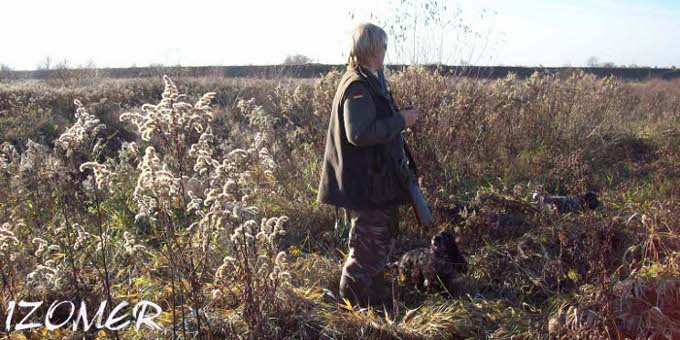 Another of its treats is that this natural hunter becomes an excellent "couch dog" when indoors, he is friendly to children and a wonderful companion.
Przyćmienie Osadź Osadź ten film na swojej witrynie
Przyćmienie Osadź Osadź ten film na swojej witrynie